Blue Meridian: We stand on the merits of our accomplishments, the honor of our professionalism and our dedication and loyalty to our customers - our friends and dive buddies!

It's Baaaacccckkkk!!!
Annual Pumpkin Carving Contest
At Mermet Springs
Saturday October 25th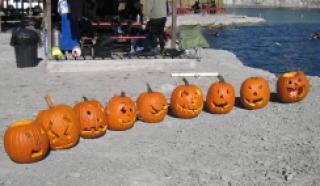 Don't be fooled into thinking that carving a pumpkin underwater isn't challenging!! It is, but it is also a lot of fun. People get so creative when they let those artistic juices flow. Come try it, you know you'll be in an elite crowd when you start discussing your pumpkin you carved this Halloween....UNDERWATER!!!
Don't forget the chili cookoff -
okay so it's really not a contest, just an excuse to eat and have some fun....but it's a good day no matter how you carve it!!
Call for more details!!!

After-Trip Reunion Party!!
Okay so better late than never!!!! Instead of getting people together from one trip, lets get everybody together from all the trips!!
So, for all those that traveled with us in 2014 on one of our fabulous trips, we are having a "consolidated" after trip get together. Please come join us for an afternoon of friendship and great memories!!
Festivities will begin at 12:00 and we will have yummy snacks, lively music and lots of fun. Bring your photos, videos and any other memories you'd like to share. Again this is for all the groups: St Lucia, Key Largo Cozumel and Panama City Beach.
November 1st at the store!!
New for 2015:
Become a member of our new Blue Meridian Travel Club

UW Monopoly for Charity
It saddens me to say that we are going to have to let 2014 pass without having our UW Monopoly tournament.
Will all the schedule changes for the Treasure Hunt, the UW Monopoly kind of got pushed out of the picture. But not to fear, we will bring it back next season and likely with a few new ideas for all our devoted participants that we greatly appreciate each and every year.
Keep watching for a list of charities that we will distribute the treasure hunt funds to. We typically distribute those funds in October.
Thank you as always for your support!!

Just a quick note!
We will be closed on the following Fridays:
October 10th
November 21st

Welcome Back Randy!
Please help us welcome back to the Blue Meridian Dive Team, Randy Tomblinson! We are so excited to have him back!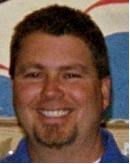 Randy worked with us for several years when we first opened and it has always been great having him on staff. Many of our students had Randy as their DM and they still talk about it!! We all look forward to working with him again.
I am truly blessed to have the talent and expertise of my current DM and Instruction staff. They make a huge impact on our students and can be the one factor that makes a difference in the type of experience you will have in your training. I am proud and honored to call each of them a colleague, but more importantly I am proud and honored to call each of them a friend.
We are looking forward to expanding our staff next season, so be on the lookout for the new faces!

Congratulations to our awesome
students on their new PADI certs!!
Full Face Mask Diver
Angela
Open Water
Derrick
Sidemount
Jared
Advanced Open Water
Caleb, Jeff and Eric
Open Water
Adena, John and Tony
Open Water
Cassie, Kelsey, Kaitlin, Isabelle, Jack and Drew
Advanced Open Water
Buffy
Open Water
Hannah, Josh M. and Josh J.
Wreck Diver
Doug
Advanced Open Water - PCB
Ken, Chris, Stewart and John
Enriched Air Nitrox
Julie, Ken, Stewart and John
Blue Meridian Students - Simply the best!!

Quote of the Week:
"Everything has beauty, but not everyone sees it"
Confucius

Travel 2014
Our promise to you:
As always, we assure you the best destinations at the best prices and all you have to do is pack your bags...we'll take care of the rest!
At Blue Meridian it's always about you!

FREE Discover Scuba Program!
If you would be interested in a FREE Discover Scuba experience, please email us or give us a call and we'll be glad to set that up for you. We provide all equipment and it is a great way to "get your feet wet" before taking the big plunge into your PADI Open Water Diver certification!

Tri-States Only PADI 5-Star Dive Center
PADI
The Name Says It All
The Professional Association of Diving Instructors
People come from all over the tri-state to dive with Blue Meridian. Why? Because they know our staff loves diving and it shows in everything we do, because we teach the PADI System of Diver Education and because we are professionals at every level! Scout troops from Evansville & Owensboro, college students and law enforcement officers from Bowling Green and Tell City and families and singles from all over pick Blue Meridian for their training facility!
Why?
Because they know Blue Meridian has the tri-states most experienced and professional instruction staff. You are our priority! We are here for your enjoyment, your safety and your peace of mind! Every class we offer is an opportunity for you to get the best training the tri-state has to offer. Walk in our door as strangers and you will leave as our friends. We are your dive buddies for life...not just while you are in one of our classes.
We value each customer that comes through our door. We understand that with the economy in a strain, you have to make important choices on where you spend your hard earned money and we appreciate the opportunity to give you the best value for your dollar. Please do some homework....compare prices...there is a definite difference and unfortunately there is no added benefit for you paying almost double at other locations.
We offer you the
highest quality training
backed by the
most reputable training agency in the world
taught by the
most experienced, professional staff
at the
most affordable prices!
So come to Blue Meridian -
where the Tri-State and more learns to Dive!

Want to get the online newsletter?
Send an email to Bluemeridiandive@aol.com or call us at the store and
we'll sign you up!
Check us out on Facebook and sign up for the email newsletter to get special coupons and announcements.

To sign up with DAN follow this link