Blue Meridian: We stand on the merits of our accomplishments, the honor of our professionalism and our dedication and loyalty to our customers - our friends and dive buddies!

Check Outs Soon?
We are ready to go!! But as always we are at the mercy of the winter season which hopefully is on it's way out!! We have some check outs on the schedule so depending on how quickly it warms up that will determine if we can keep our checkouts scheduled for the weekend of April 18th & 19th.
In addition, we will offer Advanced Open Water that weekend or the first weekend we are able to hit the water. We will keep everyone posted on this very important weekend.
Hope you can come join us at Mermet Springs Quarry where customer service and professionalism isn't just something they read about in a magazine once, it's something they exude every day of every diving season!!! Come join us and experience the difference for yourself!

Just A Note:
Our good friends and avid dive buddies, The Bauers : Brett, Erika and Brandon recently went to Cabo for a spring break vacation. It started out great but ended not so great. On one of their diving adventures the dive boat that they were on had multiple explosions on board and eventually burnt and sank. When the initial explosion occurred, Brett and Erika were on board in addition to 2 snorkelers and the boat captain. Brett told everyone to get off the boat and then he noticed Erika wasn't moving and she told him she couldn't as she thought her leg was broken. He ran to her and pulled her to the front of the boat, lifted her over the rail and into the water and he quickly followed. Within 60 seconds from the initial blast the entire boat was engulfed in flames and all on board were in the water. All the other divers, including Brandon were still underwater during the explosions and they surfaced to find the dive boat they were using engulfed in flames. Erika and her Dad were able to get the attention of a nearby boat and they were able to take them back to the dock and get Erika to the hospital. The only other physical injury was to the boat captain who suffered a broken leg as well. All of course, have the emotional injury of dealing with the trauma of the entire incident.
Our friends are home now and safe. Maybe a little battered and bruised, dear Erika has a cast for several weeks but as bad as all that is....it could have been worse. I could be telling you about how they lost their lives in Cabo, so please join me as I say a prayer thanking God that they are all safe. Say a prayer that the injuries will heal and hopefully this traumatic experience will not keep them from a sport that they truly love and are exceptional at. We hope to see them again soon and will continue to lift them up in our prayers!!
To my friends, the Bauers, if there is anything at all I can do for you, please do not hesitate to let me know!! Much love to each of you for your continued healing. Susie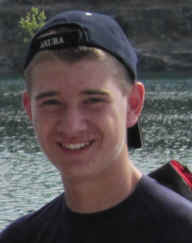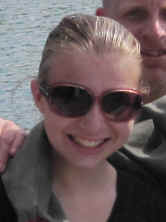 Bauers w/Susie Brandon Erika
Okay this first one is an old pic!! Erika and Brandon are in college now!!
But I have always loved it!!

UW Digital Photography
Saturday TBA
Please join us as we offer the photo bugs of the world an opportunity to get better acquainted with your underwater camera. Beautiful shots don't just fly onto your camera, it takes patience and skill to get that perfect shot, especially when your subject matter has a tendency to move on you!
Students are require to have their own camera. If you do not have a camera yet we recommend the Sealife Reefmaster series and we are prepared to offer a 20% discount to any students that purchase their camera from Blue Meridian.

Enriched Air Nitrox
Hard to go anywhere and not have the option to dive Nitrox. Catch is you can't use it if you aren't a certified Nitrox Diver!! Come join us for an informative look at "Nitrox". Find out the benefits and restrictions of using Enriched Air Nitrox. This course will help you understand the reasons behind the advantages and the extra safety precautions that need to be observed.
We are offering the course on the following day:
Saturday May 9th - 2pm
Saturday June 6th - 10am
Saturday August 8th - 2pm
You must pre-register for this class and pick up your books at least one week prior to the course date.

Public Safety Diver
Fri-Sun May 1st - 3rd
This course is designed for those divers interested in taking it one step further. Instructor Dave Faulkenberg will provide you with information that will not only give you the skills you need to perform the duties of a Public Safety Diver, but perform those duties with the professionalism, safety and techniques that are not found in all incidents.
There are all kinds of self-proclaimed Public Safety Diving instructors offering courses left and right today. What you need to ask yourself and them is: Tell me about your history? How long have you been in this field? Are you active currently? Did you sleep in a Holiday Inn and read the instructor outline to offer this class? Bonus for you: Take the class at Blue Meridian and you will get the best. Not only does Dave currently work as a Public Safety Diver, he eats it, breaths it and has more practical experience than anyone in our area.
Great thing is, you have a choice. You can take the class with someone that follows the outline and does the suggested scenario exercises in the instructor manual OR you can take the class from someone who experienced the scenarios first hand and wrote an instructor manual. The choice is yours!!
This class includes: classroom, pool and open water training. You would need to be available Friday evening, Saturday and Sunday.

Emergency First Response
Adult CPR/w AED and Basic First Aid
Saturday May 23rd 10am
Saturday July 25th 2pm
Please join us for this all to important course that will assist you in possibly assisting others. We step through the complete system of primary and secondary care through use of video driven introductions, classroom discussions, demonstrations and hands on practice.
This is a PADI certification offering a 2 year certification. This course or its equivalent is a requirement for the PADI Rescue Diver Course. This is available to divers and non-divers and we welcome anyone wanting to be better prepared to handle emergency situations that might present themselves.
We need to know if you are coming so give us a call or drop us a quick email to sign up.

Congratulations to our awesome
students on their new PADI certs!!
Emergency First Response
Kayo, Ellan, Rob and Jared
Nitrox
Buffy & Chris
Equipment Specialist
Buffy, Shannon & Gary
Blue Meridian Students - Simply the best!!

Quote of the Week:
"The best antique, is an old friend!"
Anonymous

Travel 2015
Our promise to you:
As always, we assure you the best destinations at the best prices and all you have to do is pack your bags...we'll take care of the rest!
At Blue Meridian it's always about you!

Discover Scuba Program!
If you would be interested in trying Scuba, please email us or give us a call and we'll be glad to set that up for you. We provide all equipment and it is a great way to "get your feet wet" before taking the big plunge into your PADI Open Water Diver certification! Plus we're going to help you with the cost of your Open Water Course if you decide to continue on! Click on the Discover Scuba button above for more details!!

Tri-States Only PADI 5-Star Dive Center
PADI
The Name Says It All
The Professional Association of Diving Instructors
People come from all over the tri-state to dive with Blue Meridian. Why? Because they know our staff loves diving and it shows in everything we do, because we teach the PADI System of Diver Education and because we are professionals at every level! Scout troops from Evansville & Owensboro, college students and law enforcement officers from Bowling Green and Tell City and families and singles from all over pick Blue Meridian for their training facility!
Why?
Because they know Blue Meridian has the tri-states most experienced and professional instruction staff. You are our priority! We are here for your enjoyment, your safety and your peace of mind! Every class we offer is an opportunity for you to get the best training the tri-state has to offer. Walk in our door as strangers and you will leave as our friends. We are your dive buddies for life...not just while you are in one of our classes.
We value each customer that comes through our door. We understand that with the economy in a strain, you have to make important choices on where you spend your hard earned money and we appreciate the opportunity to give you the best value for your dollar. Please do some homework....compare prices...there is a definite difference and unfortunately there is no added benefit for you paying almost double at other locations.
We offer you the
highest quality training
backed by the
most reputable training agency in the world
taught by the
most experienced, professional staff
at the
most affordable prices!
So come to Blue Meridian -
where the Tri-State and more learns to Dive!

Want to get the online newsletter?
Send an email to Bluemeridiandive@aol.com or call us at the store and
we'll sign you up!
Check us out on Facebook and sign up for the email newsletter to get special coupons and announcements.

To sign up with DAN follow this link